Da-Lite 28844V 77" Parallax Pure Screen-ALR
SKU:

28842V

UPC:

717068439665

MPN:

28842V
Frequently bought together:
Description
Da-Lite 28844V 77" Parallax Pure Screen-ALR
Overview
Features HD Progressive surfaces designed for 1080p, 4K and Ultra HD!

Ambient Light Rejecting Material!
Parallax Pure is an ambient light-rejecting technology that features a micro-layered optical lens system that rejects light. This new technology mimics the look of a television when it is on and when it is off, but without the glare from windows or lighting fixtures. With extremely wide viewing angles, no speckle and no glare, the surface is ideal for applications in Pro AV as well as Home Theater. Additionally, the surface is flexible, ships in a roll, and is easy to install. Each layer of Parallax Pure plays a role in preserving the image that is reflected back to the viewer in high ambient light environments. Some layers absorb light while one special layer is shaped like a microscopic saw-tooth that blocks light from above resulting in the preservation of high-contrast, bright images in brightly lit environments.


Ambient Light Rejecting (ALR) screens differ from a regular screens in several ways. The most common screen surfaces reflect the incoming light uniformly in all directions.
These screen surfaces are referred to as diffuse reflectors. The light is reflected back in many angles, rather than just at one angle. Surfaces that reflect back at only one angle are referred to specular reflectors - they reflect light at an angle precisely opposite the one at which that light arrived, such as a mirror.
Some projector screens may not be purely diffuse reflectors in the sense that they may reflect light back in one direction more than other directions. This is often done to increase the brightness of the reflected image (gain) within a certain area (viewing angle).
An ALR screen works by selectively reflecting light back to the audience. This effect is achieved by positioning the projector and screen in such a way that the projector's light is bounced towards the audience, while the other light in the room is reflected back in some other direction.

Some ALR screens work due to a principal referred to as Angular Reflectivity. This means that your projected image will reflect back to the audience at the mirror-opposite angle to the projector hitting the screen. I.e. if the projector is angled down at a 15 degree angle, the audience will get the brightest image while viewing the screen looking up at 15 degrees.
Whichever the ALR technology that your surface is using, there will still be some ambient light that cannot be negated. ALR screens only work if the ambient lighting is NOT hitting the screen from the same direction the projector. I.E. if you have your projector positioned at the back of the room near other light sources that are also aiming towards your screen, the ALR surface will not do anything to negate that other lighting.
The ambient light source must be coming from a different direction/angle than your projector such as reflections off of white walls, overhead or recessed lighting or from windows on the side of your room in order to get the benefit of an ALR screen.
It will be fire retardant and mildew resistant, plus standard wall-mounting brackets will be included.
Key Features
Parallax Pure 2.3 surface for standard throw projectors (1.8:1 or greater)
Parallax Pure 0.8 surface for standard throw projectors (1.5:1 or greater)
Parallax Pure UST 0.45 surface for ultra short-throw projectors (0.4:1 throw or less)
Micro layers that block and absorb light
Glare and speckle-free
Ships unassembled and easy to install
Standard frame with Pro-Trim® finish to absorb light surrounding the viewing area
See the Product Information sheet for projector placement.
Details
Projection Surface:

Parallax 0.8

Format:

HDTV[16:9]

Dimensions:

77" Diagonal (37.5"x 67")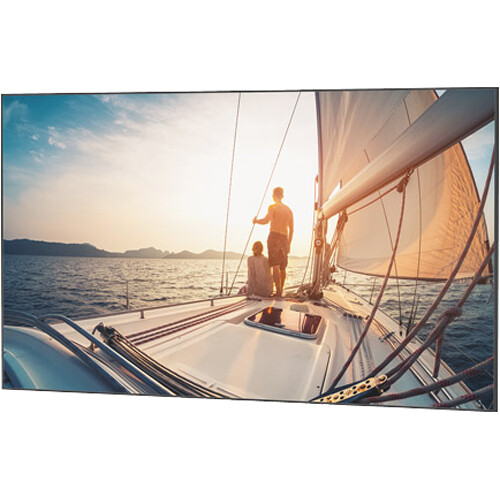 View All
Close