Optoma ProScene WU1500 projector
Optoma
Current Stock:

SKU:

WU1500
---
Optoma WU1500

Premium image quality, exceptional brightness and ultimate reliability
WUXGA 12,000 lumens
Motorized lens shift
Six lens options
Dual lamps with lamp relay and 24/7 operation
HDBaseT and 3G-SDI
360° operation with portrait mode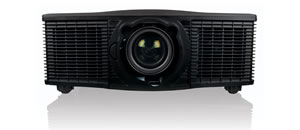 The Optoma ProScene WU1500 is a fully-featured installation projector, built
for demanding professional applications where image quality, performance
and reliability are paramount. Native WUXGA resolution, 12,000 lumens
brightness and 5000:1 contrast deliver vivid, crystal-clear images, while
dual lamps with lamp relay and 24/7 operation provide ultimate reliability,
ensuring that this is a projector in which you can have complete confidence.

The dust-sealed, filter-free design prevents dust and dirt from affecting the
optical system, ensuring optimal image quality with minimal maintenance
requirements. Motorized lens shift, zoom and focus combined with 360°
operation and interchangeable color wheels provide total flexibility for
simple, trouble-free installation. A choice of six premium-quality lenses,
from wide focus through to extra-long zoom means that the WU1500 can
be adapted to cover almost any projection distance.

An array of advanced connectivity options are provided as standard,
including HDMI, DVI-D, 5 BNC, HDBaseT and 3G-SDI. Every aspect of the
WU1500 has been carefully designed and built to suit the requirements
of the professional installer – from the dependable lens mounting system,
through to the backlit remote control keypad and operation panel.
The Optoma ProScene WU1500 represents the ultimate in professional
image projection.
Image quality
Superb image quality is at the heart of every ProScene product. At every step, commencing with the incredibly reliable, high resolution WUXGA DLP® chip, where the image is initially created via the dual Philips UHP projection lamps, through to the precision optics which focus the image on the screen, accuracy and integrity of the image are paramount.
All Optoma ProScene projectors use DLP® technology for its image quality and unmatched reliability. The reflective nature of DLP® micro-mirror technology provides highly efficient, bright images with great contrast whilst maintaining precise color accuracy and natural, real-world color reproduction. For demanding professional applications, the proven reliability of DLP® technology makes it the obvious choice.
Better than Full HD resolution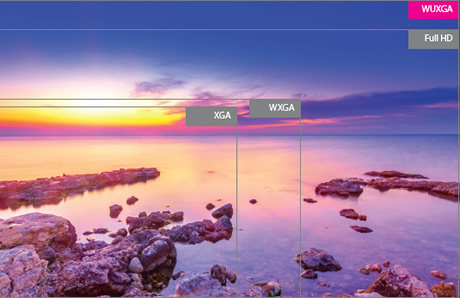 When detail really matters, WUXGA resolution (1920 x 1200 pixels) offers 15% more image area than 1080p and 60% more than SXGA+. This enables unscaled Full HD video and extra detail. Time code information can be displayed on-screen at the same time, perfect for soundtrack recording and video editing editing where precise timing can be critical.
Lamps
The dual Philips 465W UHP lamps provide the highest possible luminance, the essential prerequisite of all high-performance projectors. These lamps stay brighter for longer, provide a long service life and a reduced loss of luminous flux throughout that life. In addition, the lamp drivers are specifically tuned for the lamps, ensuring optimum operating conditions and greater stability for any situation.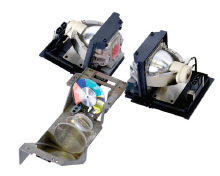 Lamp pulsing technology
Advanced lamp-pulsing technologies enable color performance to be fine-tuned directly from the lamp. This unprecedented control helps to create vibrant, perfectly saturated colors across the whole light spectrum. The result is stunningly accurate, naturallooking images.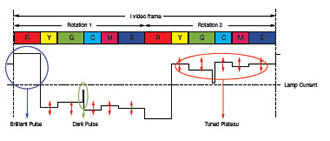 The Optoma ProScene WU1500 is designed for continuous 24/7 operation. Only the most reliable, industry proven components are used to ensure superior reliability. This hard-earned "capability" has been meticulously developed over a decade of designing and supporting millions of projectors the world over. The dust-sealed, filter-free design prevents dust and dirt from affecting the system – ensuring optimal image quality with minimal maintenance. ProScene customers can therefore be confident that, as one of the most reliable projector brands in the industry today, Optoma has a reputation for service excellence that is well deserved.

Lamp switching
Dual lamps enable a level of reliability simply unavailable with a single-lamp projector. Both lamps can be used together to achieve maximum brightness, whilst still providing redundancy should one of them fail. Alternatively, a single lamp can be used in Relay Mode to deliver the full lifetime of each individual lamp, hence minimising service intervals.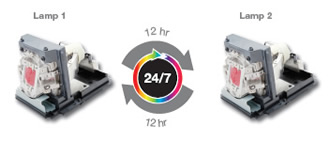 Precision optics
High quality glass optical elements maintain optimum sharpness and focus uniformity over the entire image. The ProScene insistence on uncompromising optical quality ensures extremely low color flare and chromatic aberration resulting in crystal clear, high contrast images.
Select from a range of six premium-quality lenses, including short throw, wide zoom and long throw options. All have motorized shift, zoom and focus mechanisms, for easy and accurate adjustment after initial installation.

DLP® technology
DLP® technology from Texas Instruments® is widely recognized and acclaimed for its unmatched reliability and long lasting image performance. When combined with high brightness and native contrast ratios, it becomes the obvious choice for demanding applications. Independent testing has proven DLP® to be the most reliable of projector technologies. Whilst other technologies may show image quality decline after only a few thousand hours, DLP® technology can remain unchanged over hundreds of thousands of hours.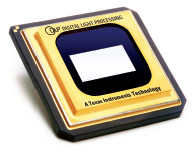 Total cost of ownership
For demanding applications, the total cost of ownership of a projector is not just in the purchase price, but also in expensive maintenance and service. ProScene projectors require very little maintenance, have no user serviceable parts inside and no filters that require periodic replacement. The result is low cost, predictable service cycles, enabling planned down time to be minimised.
We are so confident that the WU1500 image color quality will remain as good as the day you bought it that Optoma will guarantee it for five years.

Installation flexibility
To meet the challenges of Pro AV installations, the WU1500 offers six lens options, each with motorized zoom and focus, to accurately deliver the required image size.
Motorized lens shift makes it easy to position the image exactly where you want it, while a choice of two different color wheels allows the right balance of color and brightness for any application.

All of the six optional lenses offer easy adjustment via the motorized lens shift, zoom and focus.
Motorized lens shift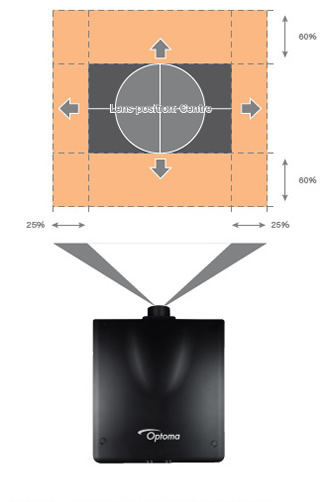 *Lens shift percentage is dependent on lens, see user manual for details
360° and portrait projection capability
Images can be projected over a full 360° range along the horizontal axis, including reproduction onto a ceiling or floor. The projector can also be placed in 'portrait mode' for applications such as digital signage and multi-projector displays.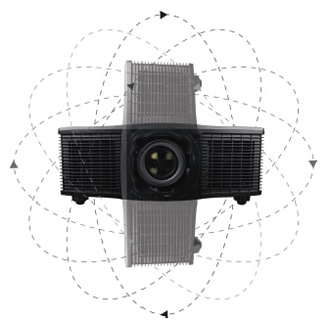 HDBaseT
HDBaseT enables transmission of uncompressed high definition video, audio, network and control signals over a single Category 6 twisted-pair cable. This streamlines installation and reduces labour, as well as allowing greater distances between the image source and the projector.

Mechanical Shutter
For situations where only absolute darkness is good enough, the WU1500 has a mechanical shutter to provide total blackout. This makes it perfect for live events, such as scene changes during theater performances.
Open: Normal image
Closed: Blackout
Edge-blending controls
No two projectors are completely identical. When performing edge-blend projects using multiple projectors, it can be difficult to achieve good results if the images do not match. The WU1500 incorporates the following features to ensure high quality and consistent results:
Color matching
The WU1500 has a full 3-axis color matching system, which, when combined with accurate measurements, can create seamless blends every time.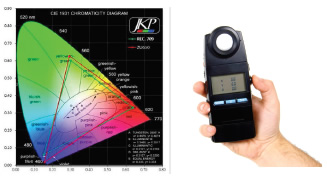 Brightness matching
To correctly match multiple units, the WU1500 has ten lamp power steps between 80% and 100% of full brightness. This helps to achieve balanced brightness levels between adjacent projectors.

Interchangeable color wheels
Two color wheel options ensure the performance characteristics of the WU1500 can be tailored to match the application. The standard color wheel maximises brightness, whilst ensuring good color reproduction. Alternatively, the 'rich color' wheel trades some brightness for exceptional color performance and accuracy. The color wheels are interchangeable modules, and can be fitted or exchanged on-site, without removing the projector cover.

Bright (standard)
Rich Color (optional)
Projector security
The WU1500 features a Kensington lock slot, together with the ability to set a PIN code. This improves security and helps to deter projector theft.
System Integration and Control
Multiple WU1500 projectors can be monitored over the LAN and can also send an email alert via Crestron RoomView in the event of an error or a lamp failure. Projector status can be monitored via a web browser, while Extron IP Link, AMX Device Discovery and PJ-Link protocols offer remote management of most functions across a network, keeping you in control wherever you are.

Global monitoring of all AV devices

Track projector light source usage

Email alerts and instant notifications - helpdesk requests, service reminders, device failure or theft

Event scheduling
Ultimate control
Cut up to 30% from your energy bills using 24-hour automated power scheduling to ensure that projectors power off when not in use.


Help alert
Real-time interactive helpdesk requests are sorted to come to the top. The helpdesk then has the ability to respond with an automatic message or instant message the room with exact procedures.
Display power
Check on/off status of display power and system power. View a bar graph to monitor the percentage of available projector light source usage and set an alert to notify the service or facilities department when maintenance is needed.
Display usage
A visual indication of light source or service interval status.
Schedule event
RoomView Express makes scheduling of recurring or one timen events easy. Setting RoomView to automatically power down at midnight throughout the week can save valuable light source life and ensure security inside the facility.
Selected view by rooms, attributes or contacts
RoomView Express gives you the ability to simultaneously view more than 250 rooms from a single screen. Customise RoomView to view by room name, locations and group.
Event log
Automatically generates log files, reports and charts to analyze ROI and budget allocation. Track device usage, call statistics and user history.
Lenses
Lens options
Optoma model name
A18
A19
A20
A21
A22
A23
Lens name
Short zoom
Wide zoom
Semi-Wide zoom
Standard
Long zoom
Extra-Long zoom
Throw ratio
0.84 ~ 1.02
1.02 ~ 1.36
1.2 ~ 1.5
1.5 ~ 2.0
2.0 ~ 4.0
4.0 ~ 7.2
Zoom ratio
1.2x
1.33x
1.25x
1.33x
2.0x
1.8x
F number
2.0
2.0
2.2
2.0
2.2
2.2
Focal length (f) mm
21.5 ~ 28.7mm
21.5 ~ 28.7mm
25.5 ~ 31.8mm
31.8 ~ 42.1mm
42.4 ~ 84.5mm
84.1 ~ 149.8mm
Zoom and Focus adjustment
Motorized zoom, motorized focus
Throw distance (m)
0.9m ~ 11.0m
1.1m ~ 14.7m
1.3m ~ 16.2m
1.6m ~ 21.5m
2.2m ~ 43.1m
4.3m ~ 77.6m
Projected image size
50" - 500" diagonal (108 x 67cm to 1077 x 673cm)
Motorized lens shift
Limited range
Vertical: +/-60% offset, Horizontal: +/- 25% offset
Brightness ratio
85%
90%
95%
100%
90%
90%
Throw distance chart
Diagonal image size
Image width
Image height
Short Zoom
Wide Zoom
Semi-wide Zoom
Standard
Long Zoom
Extra-Long Zoom
(Inch)
(m)
(m)
Min (m)
Max (m)
Min (m)
Max (m)
Min (m)
Max (m)
Min (m)
Max (m)
Min (m)
Max (m)
Min (m)
Max (m)
50
1.08
0.67
0.90
1.10
1.10
1.46
1.29
1.62
1.62
2.15
2.15
4.31
4.31
7.75
80
1.72
1.08
1.45
1.76
1.76
2.34
2.07
2.58
2.58
3.45
3.45
6.89
6.89
12.41
100
2.15
1.35
1.81
2.20
2.20
2.93
2.58
3.23
3.23
4.31
4.31
8.62
8.62
15.51
120
2.58
1.62
2.17
2.64
2.64
3.52
3.10
3.88
3.88
5.17
5.17
10.34
10.34
18.61
150
3.23
2.02
2.71
3.30
3.30
4.39
3.88
4.85
4.85
6.46
6.46
12.92
12.92
23.26
200
4.31
2.69
3.62
4.39
4.39
5.86
5.17
6.46
6.46
8.62
8.62
17.23
17.23
31.02
250
5.38
3.37
4.52
5.49
5.49
7.32
6.46
8.08
8.08
10.77
10.77
21.54
21.54
38.77
300
6.46
4.04
5.43
6.59
6.59
8.79
7.75
9.69
9.69
12.92
12.92
25.85
25.85
46.52
400
8.62
5.38
7.24
8.79
8.79
11.72
10.34
12.92
12.92
17.23
17.23
34.46
34.46
62.03
500
10.77
6.73
9.05
10.98
10.98
14.65
12.92
16.15
16.15
21.54
21.54
43.08
43.08
77.54
For guidance only

We know that improving our products is the best way to reduce our impact on the environment. That's why at Optoma, we design our products to have a long usable life, use fewer materials, ship with the minimum packaging and be free of all possible toxic substances. Naturally, energy efficiency and being recyclable are built in at the design stage. With each new product, we strive towards minimising our environmental impact. For full details of Optoma Project Green please visit our website.
Eco-friendly and highly efficient
Cut up to 30% from your energy bills using 24-hour automated power scheduling to ensure that projectors power off when not in use.

Direct power on
The projector will start up instantly when power is applied to the unit. This eliminates the need to manually turn on the projector via the remote control or the keypad, ideal for use in rooms with a "master" power switch.

Auto power off
If after a pre-determined time the projector does not receive a signal, it will shut down automatically, conserving power and extending the life of the light source.

Eco standby mode
Reduces energy consumption to less than 0.5W when the projector is not in use.