Description
Elmo TT-12F 4K Interactive Document Camera
Captures in 4K Ultra HD at 30fps.

288x Zoom capability (12x Optical + 12x Digital + 2x Sensor)
HDMI, RGB and USB 3.0 outputs
HDMI and RGB Passthrough
Record to USB or SD at 4K resolution
Up to A3 shooting area
Five-year warranty
https://www.elmousa.com/wp-content/uploads/2020/04/TT-12F_IM_EN.pdf is the manual
ELMO TT-12F 4K Ultra HD Document Camera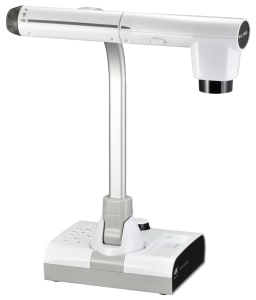 TT-12F Visual Presenter
288x Zoom capability (12x Optical + 12x Digital + 2x Sensor)
Captures in 4K Ultra HD at 30fps
HDMI, RGB and USB 3.0 outputs
Meet the most powerful TT Series Visual Presenter ever. The ELMO TT-12F offers stunning images in true 4K Ultra HD resolution over both HDMI and USB 3.0 outputs. The exceptionally powerful 288x total zoom lens (12x optical + 12x digital + 2x sensor) will never leave a small detail unnoticed.

The TT-12F document camera allows you to record to USB or SD at 4K resolution. It has HDMI and RGB passthrough with up to A3 shooting area. It captures in 4K Ultra HD at 30fps frame rate. It provides auto/zoom sync focus with 1/2.3" CMOS image pick-up element and white LED illumination.

The ELMO TT-12F visual presenter includes a five-year warranty.
Your new "classroom" may not be what you're used to but we are here to help you make it as productive as possible.
Your ELMO Document Camera is compatible with many of the most popular online collaboration applications.
You can use your UVC compliant ELMO Document Camera in:
ZOOM™| Google Meet™ | Microsoft Teams™
The following ELMO Cameras fall in the category:
Windows: OX-1 / MX-1 / MX-P / MX-P2 / PX-10 / PX-10E / PX-30 / PX-30E / TT-12iD / TT-12W / TT-12F / TT-L1 / TT-X1 / MO-1 / MO-1w / MO-2 / MA-1
MAC: OX-1 / MX-1 / MX-P / MX-P2 / PX-10 / PX-30 / TT-12iD / TT-12W / TT-L1 / TT-X1 / MO-1 / MO-1w
The TT-12i and TT-12iD must be set to UVC mode. Find out how here.
Training guide on how to use your ELMO Document Camera are below.
Zoom, Google Meet, and Microsoft Teams are trademarks of their respective owners.
Image Mate + C is a browser based software that allows you to view your ELMO Camera image, annotate on the live image, control the zoom of your camera and record what you're doing for later.
Image Mate + C also gives you four whiteboards to work from and save. You can also import a saved image or video to annotate on.
Share your browser window in your online collaboration software for easy online lessons.
Try Image Mate + C today for free : Click Here
View All
Close
Warranty Information
5 year warranty parts and labor
View All
Close