Casio XJ-A242 LED projector
SKU:

XJ-A242

UPC:

0079767466817

MPN:

XJ-A242
Bulk discount rates
Below are the available bulk discount rates for each individual item when you purchase a certain amount
| | |
| --- | --- |
| Buy 2 - 10 | and get $15.00 off |
Description
Casio XJ-A242 LED projector: New Laser and LED Hybrid Light Source
Overview
The Slim Series incorporates a CASIO developed and patent pending Hybrid Light Source which combines Laser and LED technology for amazing high brightness and can last up to 20,000 hours. The Slim is an earth-friendly, low maintenance, 5 pound projector with features such as a 2X Power Zoom Lens making it a great portable projector. The Slim eliminates the need for a short life mercury lamp (typically 3000 hours) and is economical to operate.
Key Features
2500 Lumens : WXGA (1280 X 800) : 2X Zoom
1800:1 contrast ratio : 3 year warranty including the light source : 5 lbs
Projector Soft Case included : No lamp ever to change! : No filter to change! Perfect for business presentations!
ECOLOGY:
Laser & LED Hybrid Light Source supporting high-brightness projection without mercury
CASIO has applied its unique new Laser & LED Hybrid Light Source to achieve breakthrough development of a mercury-free high-brightness projector. Adopting a new semiconductor-based light source system combining a blue laser, phosphor and a red LED, we have achieved both high-brightness performance enabling projection in well-lit rooms and environmental friendliness with mercury eliminated from the light source.
ECONOMY:
Approximately 20,000-hour long-life light source with less brightness degradation
The light source's life of approximately 20,000 hours far outshines that of conventional projectors that require mercury lamp replacement. It saves maintenance labor and contributes to a significant reduction in operating costs. Since brightness degradation is more gradual than with mercury lamps, moreover, it maintains vivid image quality through long-term use.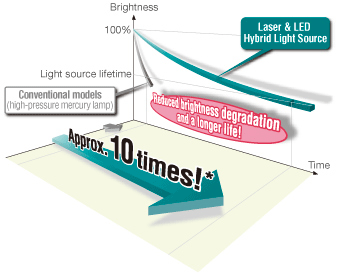 USABILITY:
Startup as quick as 5-seconds
*


Fast ON & OFF switching for convenient usability

The light source's life of approximately 20,000 hours far outshines that of conventional projectors that require mercury lamp replacement. It saves maintenance labor and contributes to a significant reduction in operating costs. Since brightness degradation is more gradual than with mercury lamps, moreover, it maintains vivid image quality through long-term use.
*Except XJ-A series

View All
Close
Additional Information
| | |
| --- | --- |
| FREE SHIPPING: | SEE TODAY'S LOW PRICE IN CART!! |
View All
Close